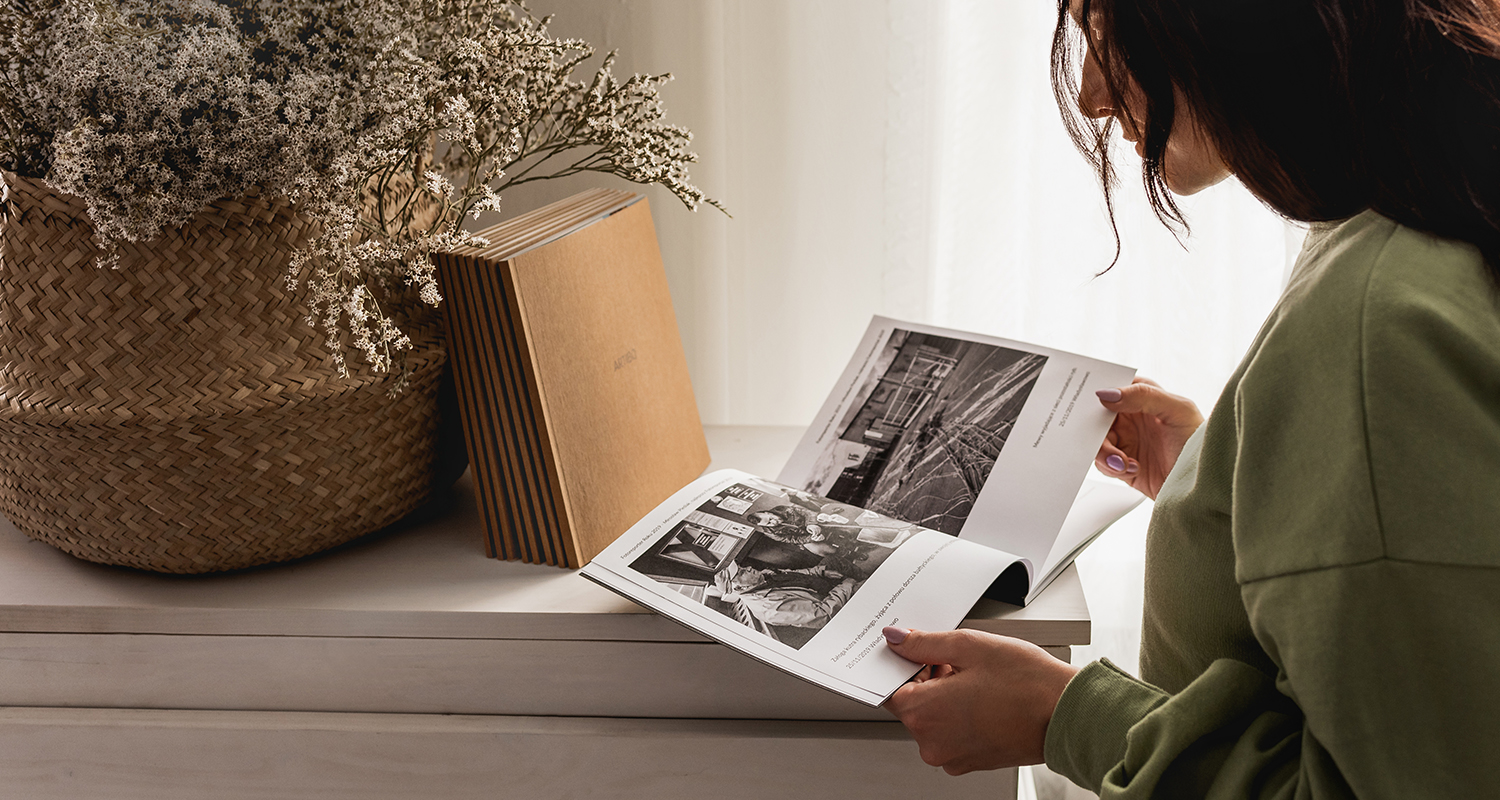 What's worth knowing when planning a photo book with Artibo? Read the article and get inspired.
1. Your type of book, your style
Present your photos in a way that suits your style. Ask yourself a few questions. What will the story be about? What is the reason for making this book? Which type of book suits your project? Would you need something basic or rather something special? Define your budget.
Choose between:
ArtiBook One - a softcover photo book, our bestseller, minimalistic, lightweight and versatile, from 22 Eur
ArtiBook Two - a hardcover photo book, classic form, from 85 Eur
ArtiBook Three - a stylish photo album with rigid cards, lay-flat, from 99 EUR
ArtiBook Four - a photo book of the highest quality, beautiful and elegant, lay-flat, from 109 EUR
2. Portrait, landscape or square size?
What orientation are your photos? Mind the ratio of the landscape to portrait photos. 
If there are more horizontal ones, choose a horizontal book format, if verticals dominate, e.g. in portraits, the vertical book format will be optimal (with one photo per page layout). Square books are very popular due to their versatility, and ideal for those who have an equal number of portrait and landscape photos.
 
3

.

What is storytelling?
Your photos should tell a story. When taking photos and when selecting them, remember about the context, pay attention not only to people, but also to the surroundings, details, characteristic elements of the landscape - then the effect of your story will be enhanced. Remember that your book should have a beginning, middle, and end. Give your book a cohesive theme - your book will flow seamlessly when you stick with it. 
4.

Photo selection - easier than you think
You'll enjoy the book making process so much more if your photos are all ready. If you store them on the disk, organising them into folders is a great place to start. If you store photos on your phone, mark your favorites - it will make the selection easier for you.
The selection of photos is your milestone in the process of creating a book - be critical and choose the best photos. Sometimes you have to give up a great picture because it doesn't fit in with your story, or your photo book style. When choosing photos, pay attention to how they interact with each other.
5. Designing the pages - just have fun!
Here comes the fun part - design a photo book to your taste. In Artibo's Online Designer you will find ready-made layouts. In your photo book, you may add as many photos as you please. However, take into account the size of your book, e.g. adding more than 4 photos per page in a 20x30cm book might cause chaos, your photos need some room to breathe. Don't hesitate to show off your star images and give them a page or even a spread! Express your creativity when designing the pages, but do not overdo it with the number of photo layouts used, or the number of different fonts - less is more.
6. Text always welcome
Text is optional, and with no limit to where you put it. Why not add longer descriptions explaining the context of the story or short captions under the photos? Did you know that the text you see on your screen is actually bigger? Make sure your font size doesn't over power your images. The optimal font size for reading is 9-11 points for the vast majority of us.
 
7. Papers with benefits
Printing paper comes in many different types, each with different uses and benefits. Artibo is proud to offer an exceptional selection of uncoated, acid-free papers with archival properties - no yellow pages over the years! This means that your grandson or great-grandson will view your photo book in the same quality that you see when flipping through it today.
Which paper is right for you and your project? Pick:
glossy

- if you are a fan of brilliant colours and sharp images, and a perfectly smooth surface. Such a surface absorbs the ink, creating much higher clarity images than you could expect from matte paper.

semi-matte

(e.g. silk, luster, satin) - if you are a fan of subdued colour reproduction and delicate structure. In other words, if gloss is too much for you, and you still want good contrast and vivid colors.

matte

- if you are looking for something specific, with an artistic character (not an option for fans of colorful magazines). Choose matte, if you put timeless appeal over lowered contrast. The text looks much better on the matte than on glossy paper, and the images are visible the same regardless of which perspective you look at.
8

.

The power of the Title Page
The very first page of the photo book is worth arranging in an interesting way:
If you're creating an ambitious publication - add a classic title page to the book,

with a subtitle, surname, date, and place of publication.

If you are designing a travel photo book - add dates, locations, other details that can enrich your story, include a photo of a map with your route marked.

 

A family event photo book - add names, dates, location, and who performed certain functions.
Designing such a page is an extra effort that you will appreciate over time. Our memory is unreliable, so the summary of a trip or celebration will take on additional value with years to come.
9. Let your book stand out  
Pages filled with more than just pictures - this is the feature of a beautiful photo book. If you're ready to spare some extra time to enrich your book, here's a trick: scan things that you associate with the story in your book  - e.g. entrance tickets, boarding passes, other documents. Include them in your book, and they will provide a surprising, complementary touch.
You can also leave one blank page anywhere in the book, in order to... write something on your own, or make a mark of a footprint of a child. This will keep the story even more interesting.
10. Keep calm and create short stories
It seems like a big task to make a photo book? In a cameras-everywhere culture, each of us sooner or later faces the fact that we probably take too many pictures, and struggle to organise them. Free yourself from a big task by creating short stories - design several series in the form of two or three books instead of one. Take into account how the books will interact when sitting next to each other on the shelf - we recommend the same size, the same fonts and book numbering - e.g. in the title.
Creating in Artibo's Online Designer is simple and fun, and receiving your own personalised book is priceless. We know you're proud of your photos, they surely deserve a unique presentation. ArtiBooks are so stylish. So DESIGN yours and enjoy.