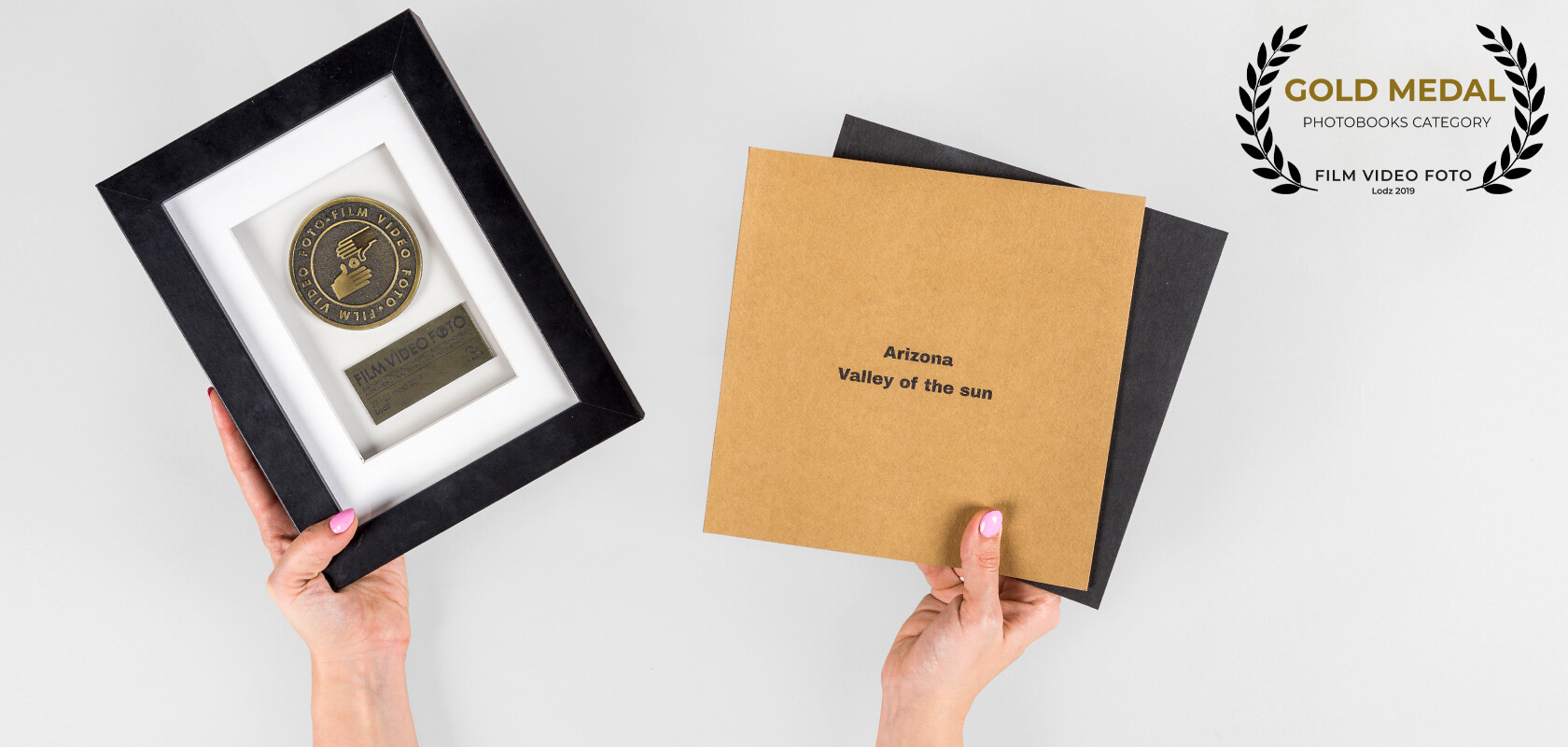 Awarded with Gold Medal in photobooks category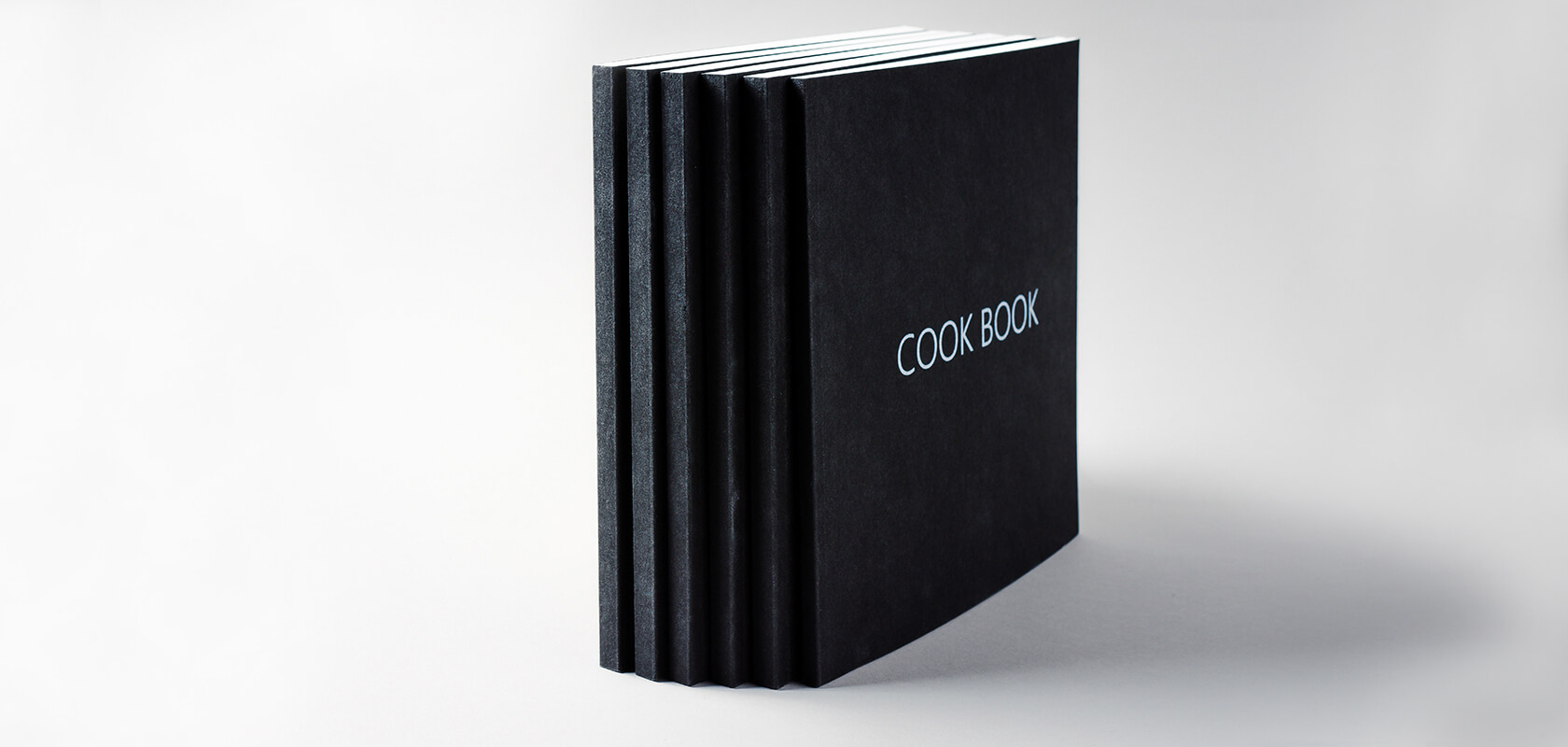 Cover made of eco-friendly materials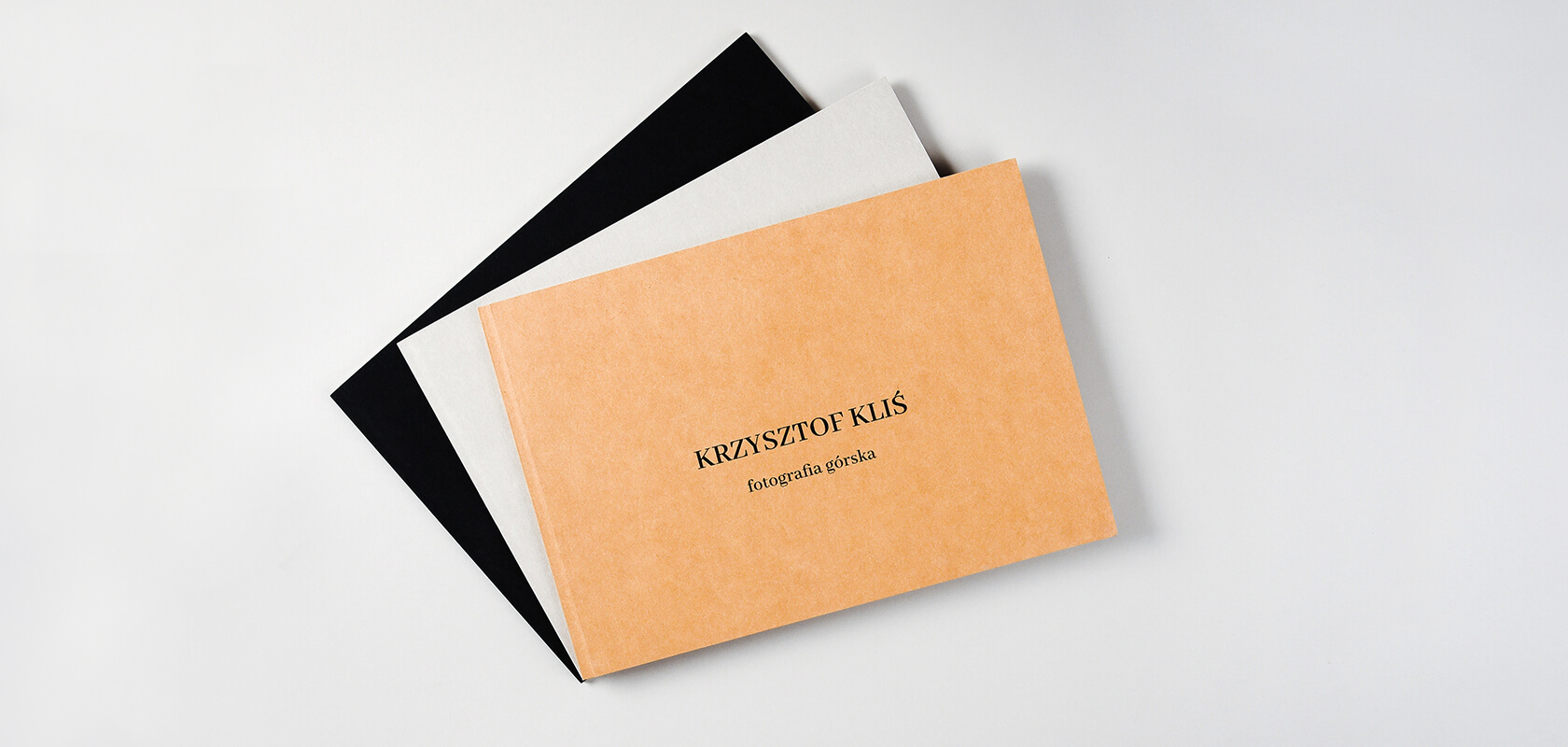 Cover can be personalised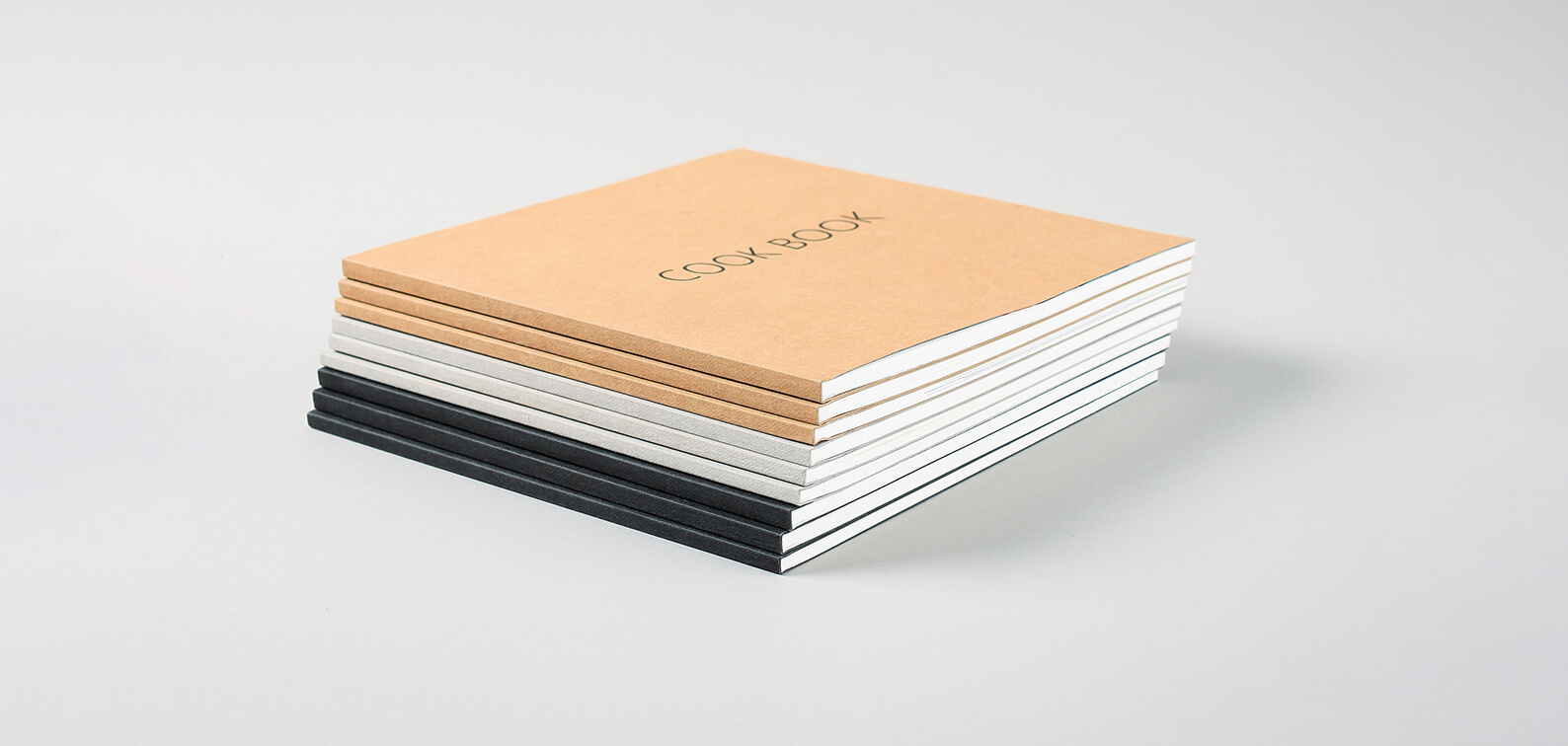 Simplicity and minimalism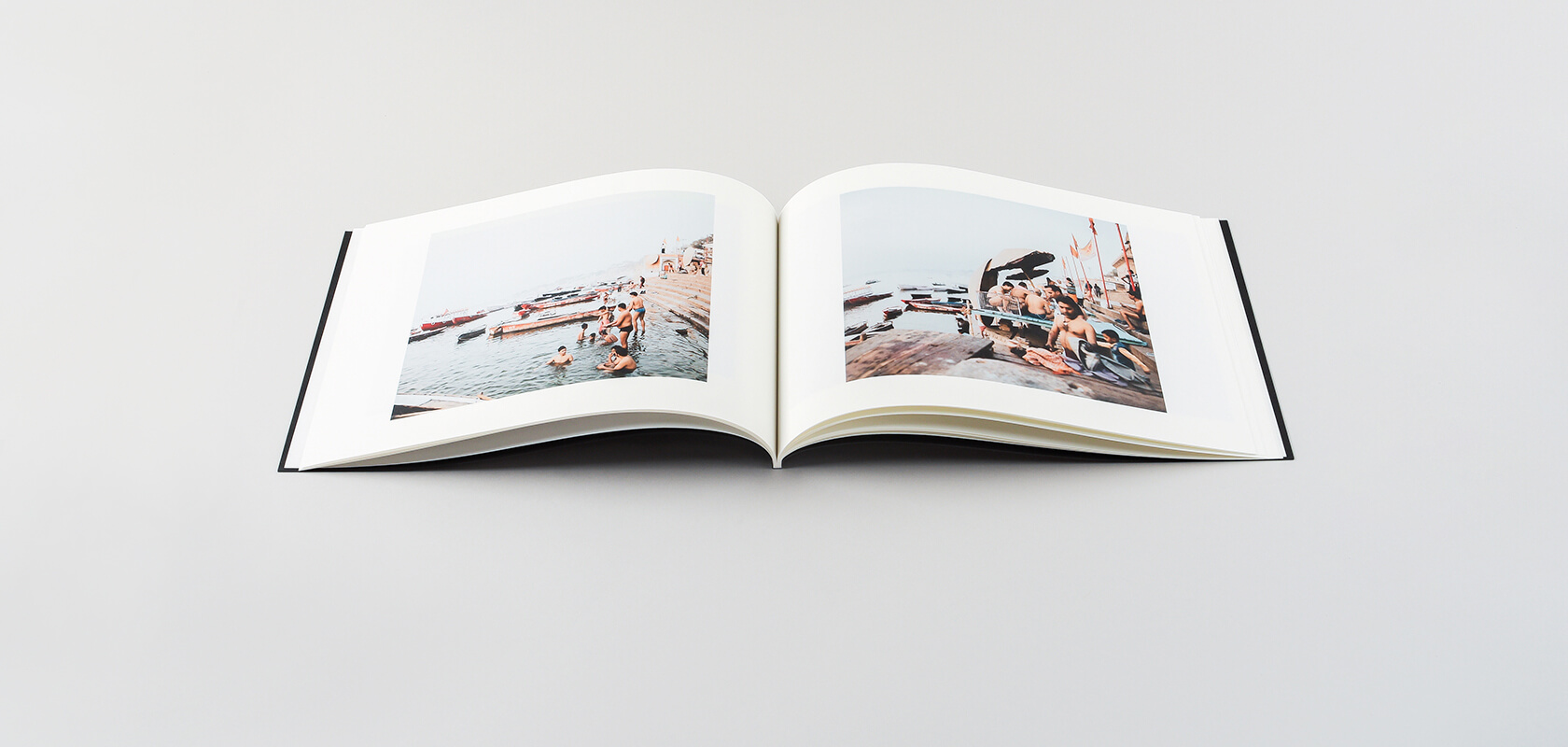 Flexible sheets in double-sided printing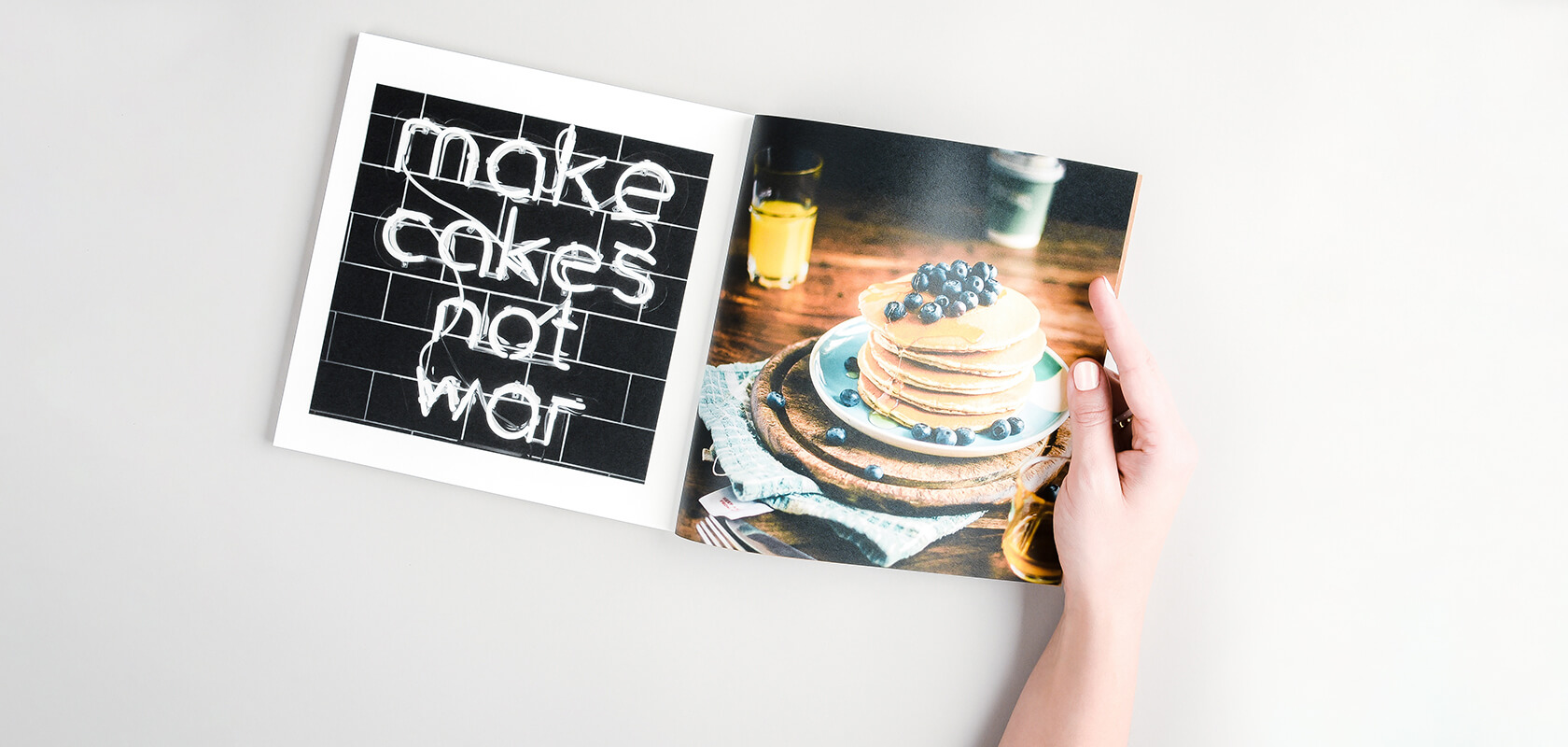 Photographic printing quality (HP Indigo)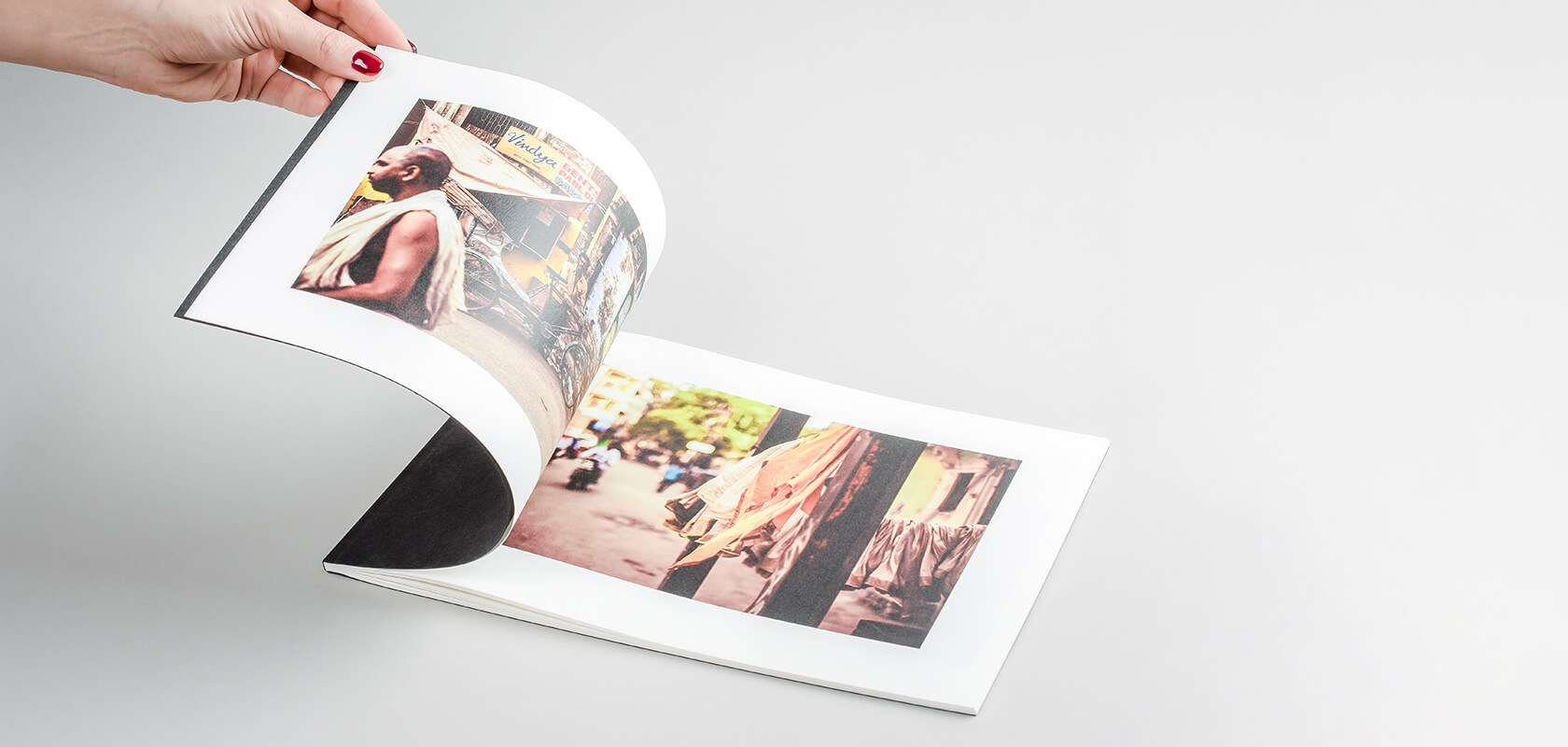 Lightweight and long-lasting product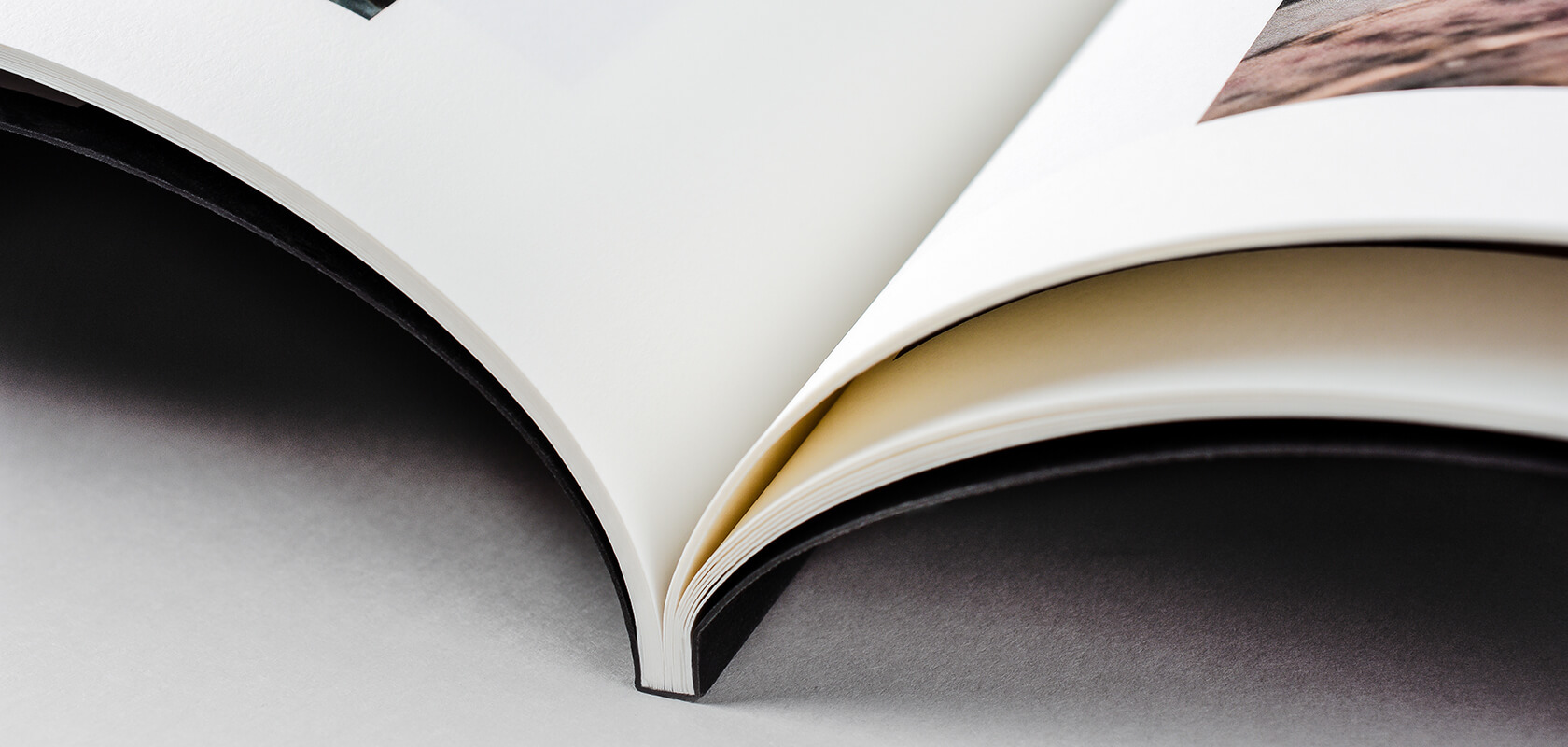 Elegant spine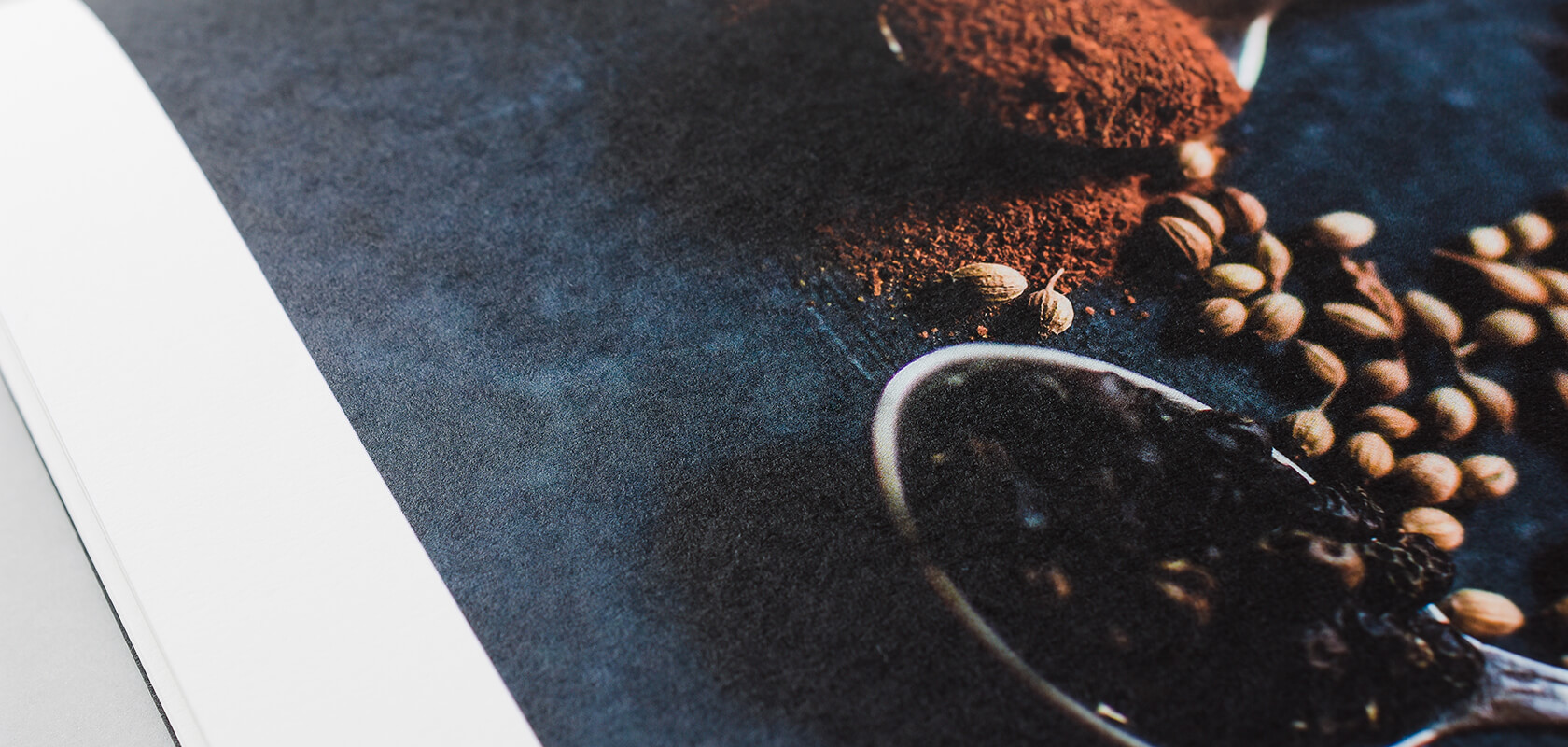 Characteristic matte paper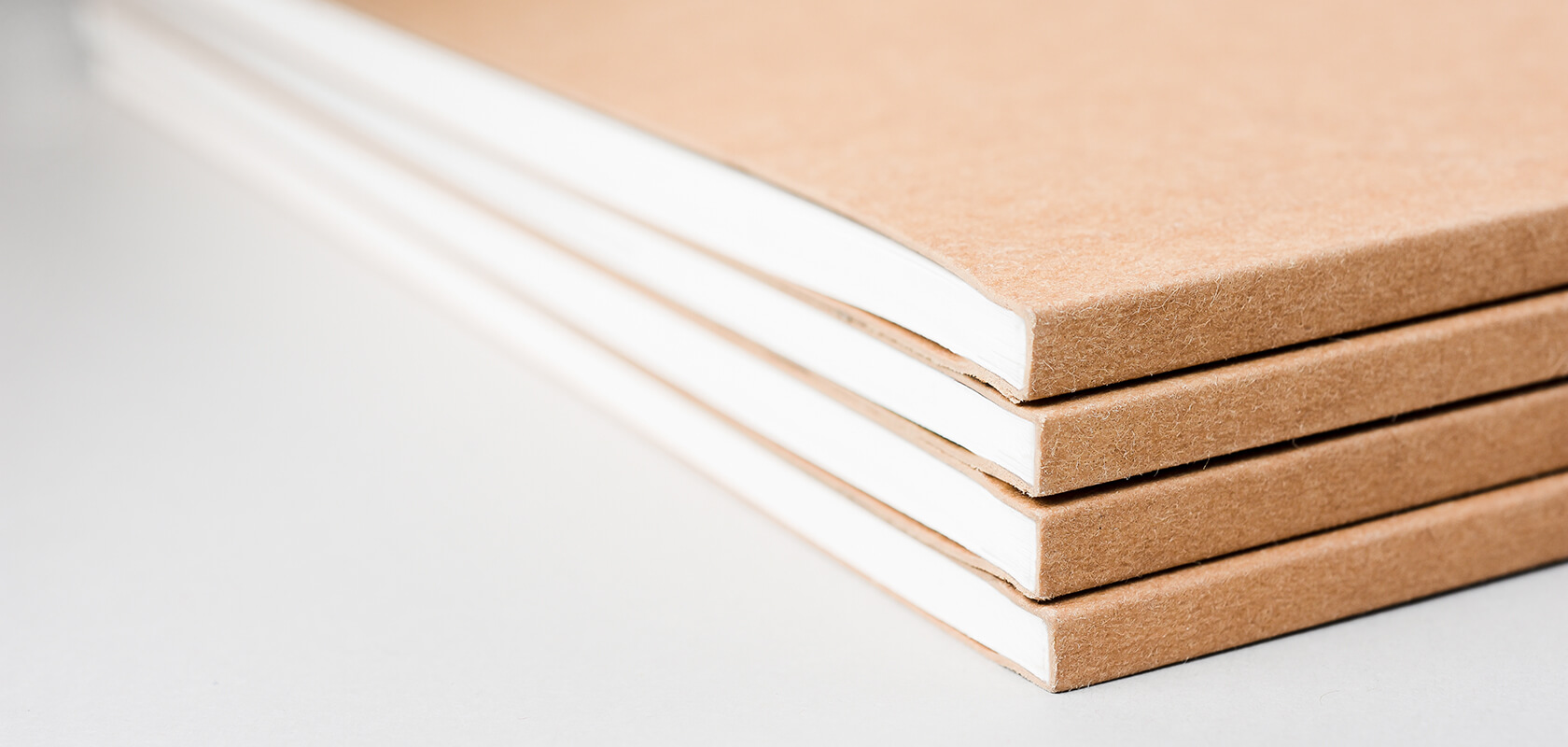 Sturdy bookbinding finish
HP Indigo (HP)
HP Indigo is an advanced and modern digital printing laboratory using Electroink technology patented by HP. It is characterized by a set of seven printing pigments. The basic CMYK colour profile is additionally supplemented by photographic "whitened" electrolytes: light Cyan, light Magenta and light Black. Thanks to this, colours are more visually clean, clear, and more natural. An expanded colour palette makes prints produced in this technology stand out for a greater uniformity of surface and increased tonal continuity – transitions are smooth and free of discolourations. At the same time, prints are characterised by high detail reproduction quality in around whites, light greys, light blacks and blacks, and dark areas of the frame. The highest quality of digital printing is made complete by a carefully prepared palette of photographic paper – all this in order to vest prints with a unique and professional character.
Mohawk Eggshell 148 g/m²
One of the best digital printing papers on the market. Its touch sensitivity, archival quality, and timeless appearance make new generations of designers reach for this paper.
It has a delicate and clearly visible paper fibre structure. To the touch, the characteristic texture, as the name suggests, is reminiscent of an eggshell. The paper is distinguished by a deep matte finish completely absorbing light in a characteristic colour theme of a slightly broken dimmed white. In reception photographs printed on this paper give a natural impression with a slightly reduced contrast. It is perfectly suited for reportages, portrait sessions, and broadly understood artistic photography.
Grammage: 148 g/m²

Uncoated paper

Surface finish: Eggshell/smooth

Premium Class Digital Printing Paper

Acid-free and archival properties
Characteristic for perfect ink adhesion/high contrast and saturation

Stands out for exceptional image durability/scratch resistance

Enhanced vitality (when compared with other uncoated paper types)/deep snow-white

FSC® certificate

HP Indigo certificate
Arctic Matte 170 g/m²
Designed for digital printing, Arctic Matte paper has an HP certificate which guarantees the highest quality and durability of print. It has acid-free and archival properties. Uncoated paper with a matte surface is characterised by an average light reflectance value. Snow-white with a characteristic smooth surface, it provides an alternative to Mohawk paper with a much warmer hue and eggshell structure. The matte surface and high opacity vest images printed on it with more contrast and saturation. One of its main advantages is its scratch and fingerprint resistance. Paper for universal use.
Grammage: 170 g/m²

Uncoated paper

Surface finish: Smooth

Deep snow white

High contrast and saturation
Premium Class Paper

Acid-free and archival properties

Scratch resistant

FSC® Certificate

ISO 14001 Certificate
Softcover
Softcovers are made of a special type of paper, among others used in fashion and decoration. It is characterised by smoothness with an attractive tactile texture gaining a unique aging effect over time. This paper is extremely durable, resistant to damage, and very flexible. Similarly as other paper types we use, this one also has been certified by Oeko-Tex and Forest Stewardship Council (FSC). Such certificates are a guarantee that it is an ecological, people- and nature-friendly product. From start to finish.
FSC® Certificate
Sustainable supply and systematic forest management system.
The paper originates from sources subject to sustainable management compliant with FSC® standards.
These standards promote reforestation, forest resources protection, and help to preserve the main source of carbon dioxide capture, biodiversity, and food for local people.
ISO 14001 Certificate
An international environmental standard.
The ISO 14001 environmental standard contributes to the reduction of environmental footprint. It covers preservation, protection, improvement of the quality of the environment, protection of human health, and guarantees prudent and rational use of natural resources.
Hp Indigo Certificate
Guarantee of quality.
Each paper type with this certificate has been tested by HP and received a positive confirmation and approval for printing on HP Indigo.
Green Star System***
Eco-friendly Paper.
A system informing about paper's eco-friendliness level in relation to the two most important aspects of the environmental footprint of paper, i.e. the origin of the raw material and the production process. To be considered eco-friendly, paper mills must be ISO 14001-certified and raw materials must have FSC®/PEFC™ certificates.
OEKO-TEX Certificate
Trustworthy Textiles.
Oeko-Tex Standard is a testing and certification process for textile products that ensures that the labelled materials are free from all types of harmful, potentially harmful chemical agents, and substances that may adversely affect human health.
Production time is 5 working days
Production time is counted in working days (i.e. from Monday to Friday excluding public holidays) and from the next working day following the receipt of payment.
Production time does not include the delivery time which depends on the selected carrier.
PAYMENT:
Payments are processed by PAYLANE.